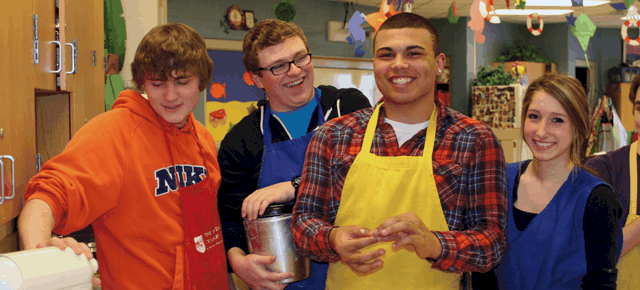 In 1985, the three public school corporations in the county (
Lafayette School Corporation
,
Tippecanoe School Corporation
and
West Lafayette Community School Corporation
) began talks about forming
a not-for-profit organization that could raise private funds for public school teachers.
The Public Schools Foundation of Tippecanoe County, Inc. was formed later that same year, and the creation of our Seeds for Excellence grant program soon followed. In 1987, the first teacher grants were awarded.
Since that time, more than $660,000 has been awarded to local educators.
Hundreds of teachers have been inspired by the opportunity and resources we provide, and thousands of students and their families have benefited from projects funded by PSFTC. We rely on financial support from individuals and businesses in the Greater Lafayette community.  We also host special events designed to bring the community together in support of public education.  In addition, we receive a portion of the proceeds from the sale of the Indiana
Hoosier Family of Readers
license plate.
. . . . . . . . . . . . . . . . . . . . . . . . . . .
2017 Board of Directors
Andrea Amato,

President

Eyal Barash
Carla Barnhart
Brooklyn Burton
Jake Burton
Brent Clemenz
Cindy Gerlach
Emily Goertemoeller
Scott Hanback
Les Huddle
Rocky Killion
Jerry Krockover
Melissa Prochnau
Jen Shirley,

Treasurer

Pam Smith,

Vice President

Sarah Wassgren,

Secretary
Christine Isbell, Executive Director . . . . . . . . . . . . . . . . . . . . . . . . . . .
Charitable Status
In September 1985, the Foundation received tax-exempt status from the Internal Revenue Service.  Our organization is recognized as exempt under section 501(c)(3) of the Internal Revenue Code.  We are further classified as a public charity under sections 509(a)(1) and 170(b)(1)(A)(vi) of the Internal Revenue Code. 
IRS Determination Letter (pdf)
Proud member of...
And the
National School Foundation Association (NSFA)